CBD is taking the world by storm. t both ends of the spectrum…..from the NHS approving CBD based medicines to Kim Kardashian hosting a CBD themed baby shower! CBD is being celebrated across lots of different industries due to its pain relieving and anti-anxiety qualities, Proving it to be an increasingly popular natural alternative to prescribed medication.
CBD is being infused into a variety of different products. Whilst some may be a little more niche than others, demand as a whole is growing across the industry. This is not surprising when you consider the health benefits that CBD has been linked to.
We have compiled a list of our favourite and what we think are the most interesting and different CBD products on the market around the world right now.
1. CBD Infused Bedding
Royal Heritage Homes have developed a range of CBD infused bedding. The collection includes twelve different pillowcases, made from 200-count cotton, and can last for up to 30 washes. The CBD infused pillows aim to help combat insomnia and assist relieving acute pain conditions.
The range also features cat and dog pet beds in a variety of sizes that host removable CBD-infused covers
For those who have problems sleeping at night, this could be a different way of tackling the issue!
2. CBD Houmous
Themptation, an organic food store in Cornwall, went viral on Twitter in 2019 when a post showing their houmous under the caption 'enough said' was liked 34.3K times. Whilst we here at CBD Guide we advocated for advocate pretty much everything CBD, hummus does seem to be a bit gimmicky.
The CBD infused Houmous with Sage comes in at a hefty £26.95 for a pack of 6 so it isn't cheap either. However, we are sure it is delicious, and the brand is obviously doing something right as you can buy the houmous in Planet Organic, Whole Foods and As Nature Intended , stores who generally do not stock just anyone.
Themptation also sells a Hemp Pesto - Tomato and Rocket and an Organic Fresh Basil Hemp Pesto that is vegan and nut free. We think we will forgive them as they do look pretty good, even if CBD houmous does sound a bit like something that could be featured in 'overheard in Waitrose'. If you haven't heard of overheard in Waitrose you are in for a treat!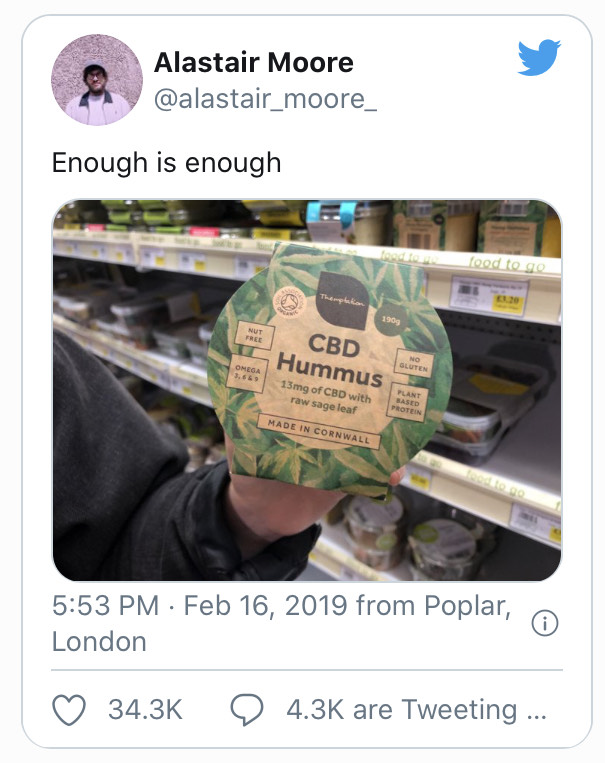 3. CBD Toilet Paper
CBD toilet roll has to be one of the odder products on the market. Obviously, we are all on an eternal hunt for the world softest bum bum paper but this does seem a little ridiculous even by our standards. Yet Nordics Botanics have sold out of their £99 toilet paper described in their own words as the 'very Latest Research-Driven Innovation'.
Nordic Botanic go on to describe the roll:
"While the rest of the nation struggle to conclude their evacuations with risky 2-ply paper, our luxurious rolls contain 70% British-grown Oak (Hardwood) and 30% British-grown Douglas Fir (Softwood). As most EU paper manufacturers fight over cheap recycled fibers to fill British bathrooms with stacks of useless tracing paper, we source only the finest quality Brexit-Backed timbers from sustainable UK forests"
However, the more we read about the toilet paper the more we think Nordic Botanics may be taking the piss (please mind the pun).
4. CBD toothpicks
Hmmmm, we are dividend on toothpicks, but we will let you decide. Here are out top pros and cons for and against CBD toothpicks:
Pros:
They are small and portable
A discrete way to use CBD
Extremely easy to use
Good way of looking after your teeth and gums
Cons:
Not the most efficient way of administering CBD as not all the CBD is extracted from the toothpick
Toothpicks are not able to offer a large potency
Not ideal for all ailments!
They are pretty expensive for a toothpick
If you are still keen to give the toothpicks a try, then Cbd Point are offering
'Pinnacle Hemp CBD Toothpicks infused with 200mg of high-quality full spectrum hemp. Each container comes with 20 picks that are 10mg a piece'
Please do let us know how you get on with them as we are rather intrigued.

5. CBD Infused Clothing
Our final entry is CBD infused clothing. From socks and hats to full blown active wear there are more and more garments appearing on the market. In 2019 Acabada Active launched in the USA with the first ever CBD infused women's range of active wear clothing . Their website describes their clothing as:
''Our luxury ProActiveWear uses microencapsulation technology that traps CBD droplets in tiny containers called microcapsules ''
Acabada claims that the CBD in its clothing lasts for up to 40 washes. It seems a little optimistic; how much CBD are you really getting on the 38th cycle?
Belgium-based Devan Chemicals created a fabric it calls R Vital, consisting of CBD microcapsules woven into cloth. As you move, the capsules break and release CBD onto your skin. In the same way as a topical, the skin absorbs the CBD and allows it to work with the body's endocannabinoid system.
To be honest we are still not convinced. There is absolutely no way to measure how much CBD your sports bra released during that morning run. I think for the time being we are going to stick with our CBD oil tinctures and CBD gummies to get us through the day.
XOXO CBD Girl