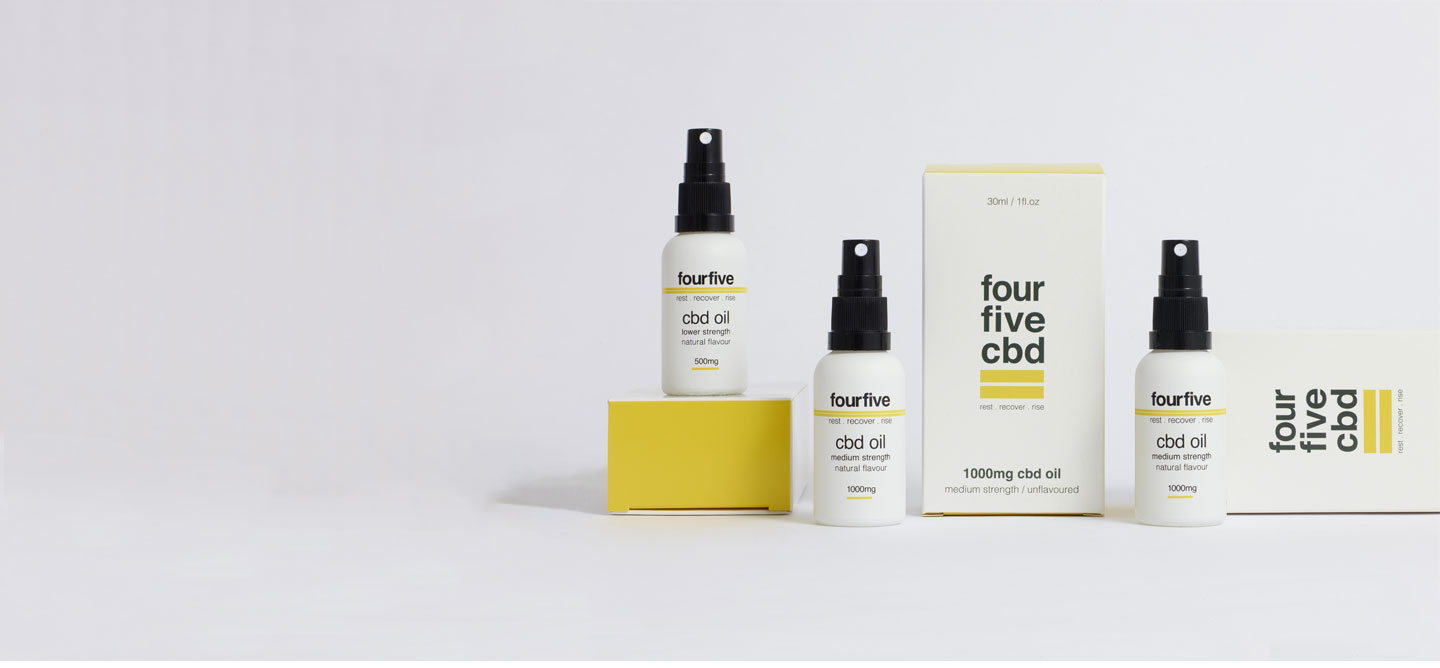 About fourfive CBD
Fourfivecbd was set up by my professional rugby players George Kruis and Dominic Day. Together, they experienced the ups and downs of leading a healthy and active lifestyle, emerging with a need to share what they learned about the world of athleticism – and to change it for the better.
After suffering from the symptoms created by taxing professional careers in 2018, they began to take the natural supplement CBD oil to maintain their active lifestyles. They found that it helped us maintain an active lifestyle during the highs and lows of our rugby careers.
As professional sportsmen, it's vitally important what they put in their bodies, so they founded fourfivecbd to create the safest and highest-grade organic CBD hemp oils and other CBD products on the market. Now you can maintain your active lifestyle too.
Fourfivecbd off a range of CBD products from CBD oils, CBD capsules, and even CBD topicals aimed to target specific areas of the body that may be taxed rather hard during spotting activity. Fourfivecbd has been featured in Forbes, The Telegraph, The Sunday Times, and The Guardian (amongst numerous other publications).
FourFivecbd have made themselves the go-to CBD brand for sportsmen and women. With their direct experience of working within the highly competitive and demanding world of professional rugby, they understand the pressure this can put on the body. As a result, they have developed CBD products to help support the body in keeping in the best physical shape possible.
Best Bits about Fourfivecbd
All their products are 100% Natural
Products are suitable for Vegetarian
Proudly Free of Herbicides and Pesticides
Every Batch is 3rd Party Lab Tested
fourfivecbd is BSCG certified drug-free
Created for sportsmen and women by sporting professionals
Pricing
Oils and sprays range from £29.99 - £107.99 in respect of strength. 300mg capsules cost £29.99 whilst the 600mg are priced at £49.99. Their range of Topical products that include a muscle rub, joint gel, and a cooling balm range from £34.99-£49.99.
However, fourfivecbd also offers an attractive and hefty discount on their description services! Definitely, something to look at if you love the products as it will give you a real saving.
Our review of fourfivecbd
We only discuss products we actually like and think that work on CBD guide. However, fourfivecbd is a leader in its field of products designed specifically for sportsmen and women. The fact that their products some of their products (not all we give you that) are BSCG certified drug-free certified is a huge accomplishment for fourfivecbd and sentiment to the research they have put into the products and the overall quality.
Many of their products and high strength, but they really do get the job done.